The government is getting together with the retail giant Amazon to start testing flying drones that can deliver parcels to your door.
Technology never fails to amaze us! Businesses with their new innovations and ideas use technology to set new trends.
The internet giant has been granted special permissions by the air regulator as it pushes forward with its plans - called Prime Air - to create an airborne delivery system that can get parcels to customers in just 30 minutes.
The agreement between the government and Amazon is a huge step forward for Amazon who have been developing delivery drones since 2014 at the company's research and development facility in Cambridge, UK.
What problems would the trials tackle?
Amazon will be working to enhance the operations of their drones so they are able to operate safely beyond 'line of sight'
Amazon will be looking into ensuring that the drones do not bump into objects by inserting sensors. They will function much like the autonomous cars.
Amazon will be tackling supply and demand of drones by creating a system whereby one pilot is responsible for many drones.
How will they work?
The company has tested and trialled various systems, but the current suitable option has been a machine that is part aeroplane and part helicopter.
Currently, the drones on trial can fly for 10 miles (16km) or more from base at a height around 350ft (100m).
Once the drones arrive at the delivery address, the drone will fly down vertically onto a special landing mat which the customer will put out on to their property. This would mean that the drones could deliver your parcels into your back garden ensuring security of items.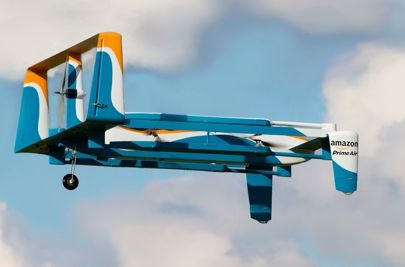 What about Privacy?
In a research conducted on Maidstone high street, it was apparent that many people were worried about their privacy with camera fitter drones flying around.
The company claims that it is making their machines with just sensors rather with integrated cameras.
The government ministers have spoken in support of Amazon as they want to convince the public that having automated drones flying around is both safe and won't invade people's privacy
Security Concerns
A Sheffield University Professor Noel Sharkey, a robotics expert voices his concern about the growth of drones. He emphasises that all information can be stolen and all drones are hackable. He specially raises his concern in regards to drones being stolen to deliver drugs or bombs.
The Future
The government Ministers have highlighted that they want to, 'pave the way for all businesses to start using the technology in future.' They have also stated that they would like drones to be operated safely, beyond the line of sight by 2020.
Globally drone delivery has also been receiving a deep interest. In Germany, The Deutsche Post stated that in the not-so-distant future, drone deliveries will become widely used.